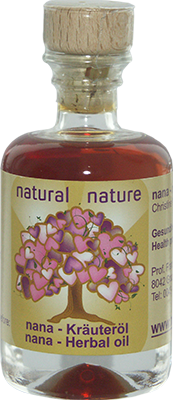 (Hyperikum perforatum)
In folk medicine it is considered as Christ's miracle herb.
It grows in dry locations and at the edge of forests.
Utilized are leaves, blossoms, buds and seed capsules.
It offers aiding use
in a large variety of disorders and problems, related to muscular pain, nervous affection, melancholia, pains, burns, feelings, joints, dislocations, bruises, inflammations, lumbago, sleep, hypertension, high blood pressure, atopic dermatitis, eczema, glands, gall bladder and digestive tract, menstruation, personal hygiene, rheumatism, sun allergy, asthma, stomach, bowel, bedwetting, fever blister, depressions, excessive mental activity, stiff neck.
It acts against depression, calms and harmonizes the glands (hormonal system), it steadies the circulation and nerves, relaxes the muscles, is balancing, stimulating, light inducing, supporting, flourishing, analgetic, dissolving, nervine, anti-oxidative, anti-viral, disinfecting, engenders positive feelings, anti-inflammatory, curative for wounds, harmonizing, nurturing, restorative, calming, stabilizing, purifying, normalizing, calmative, toning, mind changing, blood enhancing, liver supportive and aiding with wounds.
St. John's wort is used for
Nerves and hormonal system (glands): considered the 2 large control systems
in the human body
Outer skin and inner mucous system: the skin is the largest organ of our bodies
Skin: atopic dermatitis, wounds, burns (sun), allergies, care.
Muscle: pain
Nerves: excessive mental activity, depressions, stiff neck, fever blisters,
bed wetting, nerve disorder.
Circulation: blood, blood pressure, heart.
Hormones: adenocyte, gland cells.
Digestion: Gallbladder, liver, portal vein system.
The proper dosage is what counts! Please be careful, St. John's wort must be used sparingly.
Sources: characteristics and empirical data people have collected over the centuries that subsequently could in part be substantiated by scientific research.
Lechner publishing house: Vienna – Geneva – Munich – New York
"Home remedies from nature's pharmacy," "Proven and tested elixirs for the whole family," "From the witches' weed to the modern pharmaceuticals!" Thesis by Dr. Christoph Tschupp. "Health through God's pharmacy," by Maria Treben, as well as own experience and feedback.
(Hyperikum perforatum)
Feedback from customers and clients:
"The little daughter of my friend had severe eczema. At the age of two years she had to be treated with cortisone. The nana – St. John's Wort oil surprised us. After only one application the itching was gone, the child has stopped scratching herself. After four more days, the rash has withdrawn entirely. "John H., Graz
"For several years I have used St. John's Wort oil on my face, it offers excellent protection for dry skin, wrinkles and in the winter from the cold, as well as against rough hands -. Very beneficial because the natural oil contains no perfume" Rosemarie D. Tyrol
"I use it mainly for my sore, burning lips: 3 times a day 1 drop directly on the sore spot: the burning is immediately relieved, and the next day my lips are alright again. Another use for the "nana-John's Wort oil": I take a sip of oil daily before my menstruation against mood changes, as it acts as an antidepressant. I'm also pleasantly surprised by the long life of this oil. After 3 years, there´s no rancid odor! It smells "healthy" as on the first day!" Anna H., Vienna
"I take St. John's Wort oil against scaly skin. All summer long I had a sun allergy. Only then I came across that oil. After I had applied the St. John's Wort oil three times on my skin, it was smooth. I have tried many ointments before that have not helped at all. My husband takes the oil against his stiff neck. That helps even with a single oiling. "Ingrid N., Upper Austria <>