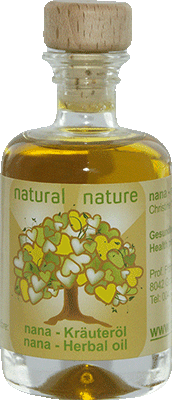 (Achillea millefolium)
is considered in the traditional folk medicine as a universal remedy, as a cure of any damage, the herb de Saint Joseph and gained recognition as the bellyache herb. Common Yarrow grows along ditches, paths, in meadows and roadsides and in its effectiveness is related to St. John's wort. Utilized are flower buds and leaves.
It offers aiding use
in a large variety of disorders and problems, related to common cold, metabolism, backache, obesity, loss of appetite, digestion, numbness of hands, varicose veins, hypochondria, circulation, wounds, ulcers, cramps and heart spasms, epilepsy, limping, excessive perspiration, diarrhea, abnormal flow of blood and mucus, general debility, hepatic portal system (digestive), stomach, intestines, inflammations, pain, liver, gall bladder, skin, lymph nodes, menstruation and haemorrhoids.
It also has an invigorating and restorative effect, acts as an anti-inflammatory, is a tonic for nerves, has astringent properties, is curative, helps tighten the skin, is styptic, has antispasmodic properties, regulates the appetite, supports the liver, balances the blood circulation and controls the metabolism.
Common Yarrow is used for
Skin: external and internal wounds, care, scars, wrinkles.
Cardiovascular system: varicose vein, cramps
Muscles and nerves: back-ache, epilepsy, perspiration
Metabolism: body fluids, flow of blood and mucus. menstruation,
sweating
Digestive system: portal vein, stomach, liver, gall, intestines, diarrhea,
regulates appetite
Sources: characteristics and empirical data people have collected over the centuries that subsequently could in part be substantiated by scientific research.
Lechner publishing house: Vienna – Geneva – Munich – New York
"Home remedies from nature's pharmacy," "Proven and tested elixirs for the whole family," "From the witches' weed to the modern pharmaceuticals!" Thesis by Dr. Christoph Tschupp. "Health through God's pharmacy," by Maria Treben, as well as own experience and feedback.
Feedback from customers:
"I use yarrow oil for serving of spaghetti and salads, anti-wrinkle facial care and overworked hands." Erika M., Salzburg
"It also proves to be a good body oil, especially for the legs with varicose veins. What makes these oils special is probably their quality and durability." Rosemarie D. Tyrol
"I need 2 bottles of yarrow oil for my mother who uses it for her feet and thus had sensational success fighting athlete's foot." Francis T. Styria
"After I had stepped on a sharp piece of glass, I let the wound bleed into the bathtub and bathed it in yarrow tea. That same evening, when I felt a burning again, I put a few drops of yarrow oil and St. John's Wort oil on the wound three times. That was all. The next day, everything was fine." Christin N., Styria